Uw bedrijf is toegevoegd op www.rotterdamtransPORT.com
(scroll down for English)
Geachte mevrouw, heer,
Hartelijk dank voor uw aanmelding. U kunt uw bedrijfsprofiel direct bekijken op onze website.
Wij zullen uw gegevens controleren en bij vragen contact met u opnemen.
U ontvangt een kopie van uw aanmelding in uw mailbox alsmede een separate mail met uw inloggegevens, waarin een directe link naar uw bedrijfsprofiel is opgenomen.
Hiermee kunt u 24/7 aan de bovenkant van onze website inloggen. U komt dan in uw eigen dashboard waar u uw bedrijfsprofiel kunt beheren. Behalve dat u nog tot maximaal 4 branches en maximaal 11 managementpersonen kunt toevoegen, kunt u in het tabblad 'voeg bedrijf toe' nog andere vestigingen van uw bedrijf toevoegen. Zo kunt u al uw bedrijfsprofielen eenvoudig in één inlogdashboard beheren.
Met vriendelijke groet,

Redactie Uitgeverij Logistiek
Tel. 0180-490122
E-mail [email protected]
www.rotterdamtransPORT.com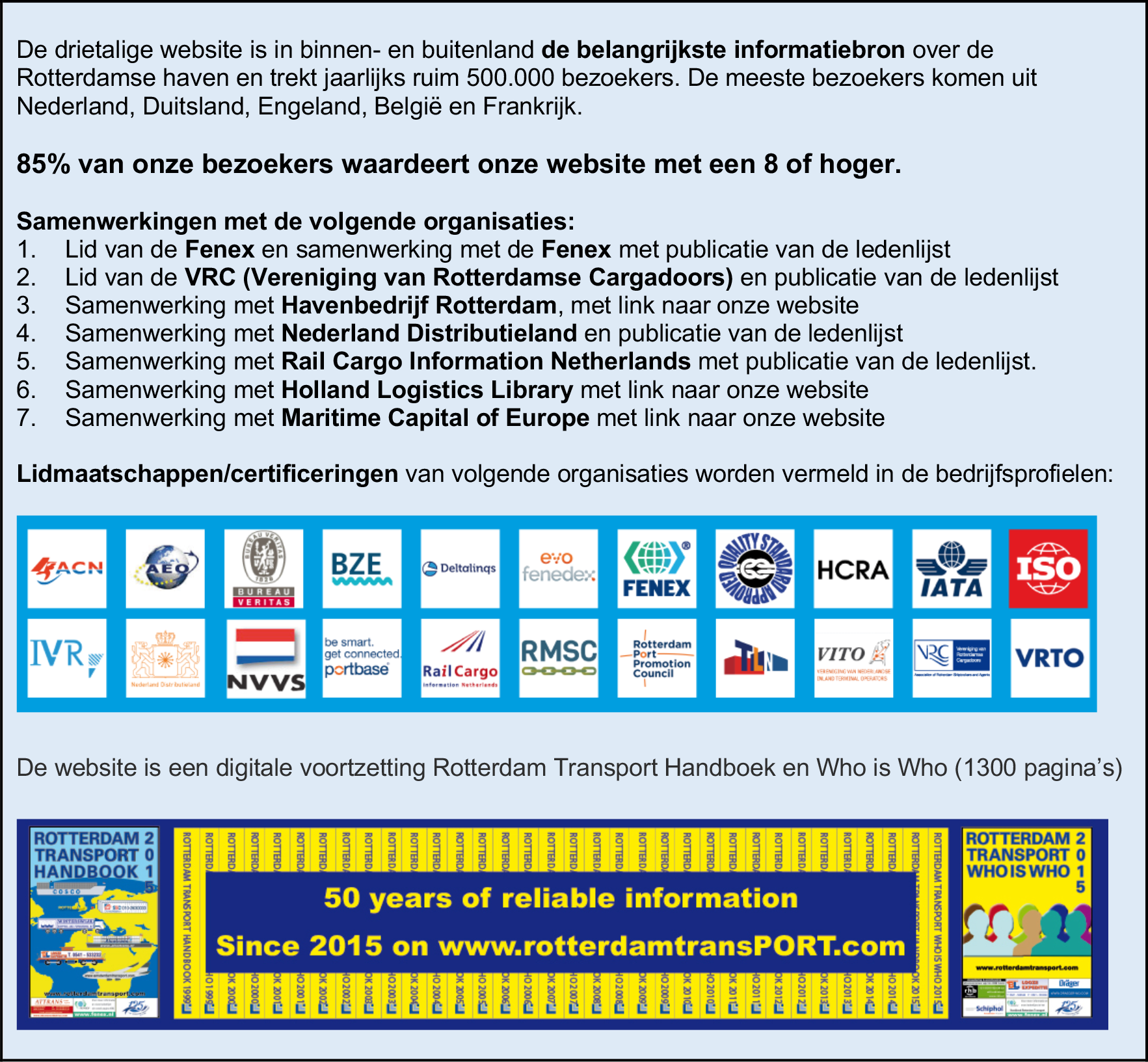 Your company is added to www.rotterdamtransPORT.com
Dear madam, sir,
Thank you for adding your company profile to our website.
We will check your data and will contact you if we have any queries.
You will receive a copy of your submission by mail.
You will also receive a username and password by separate mail. With this data you can log on 24/7 at the top of our website. Besides up to 4 branches you can also add up to 11 management persons.
Best regards,

Editing Staff Uitgeverij Logistiek
Tel. 0180-490122
E-mail [email protected]
www.rotterdamtransPORT.com